In science fiction, there's a particular challenge, and that's the need for
scientific plausibility
. In other words, it has to make sense scientifically; it has to be believable.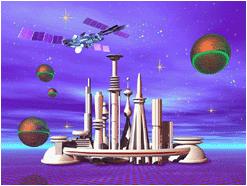 That's not quite the same thing as scientific accuracy. Science fiction is often based on taking known scientific principles and stretching them a little, bending here and twisting there. A good example is faster than light space travel (FTL). Current scientific thinking says that there is no known way to travel faster than light.
I emphasize known. From a fictional point of view, you can violate that law, but only by proposing some future discovery that permits FTL, such as space warps or wormholes or hyperdrive.
It's another way of maintaining the illusion. If you bend science, do it knowingly. Have in mind a good explanation for it. That doesn't mean you necessarily have to spell it out for the reader — we don't need an explanation in every book about how a starship's hyperdrive works, unless it's a really interesting explanation. But if it's clear in your mind, there's a good chance it will feel real in the reader's mind.
[See also
Part 9: Research and Believability
]